Maria Garza
Senior Commercial Lines Account Manager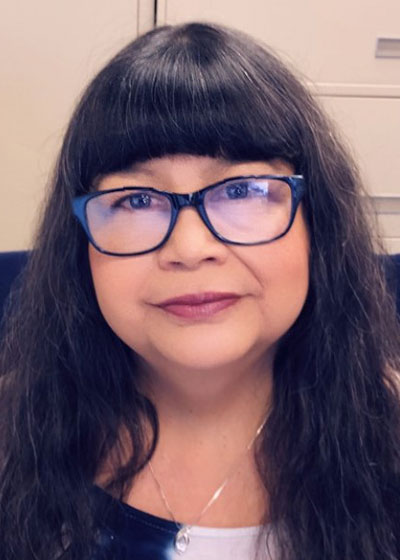 Gracie Coronado
Maria is the best. She is always so polite and patient.
Rueben Sanderson
My experience with Maria Garza was very pleasant. She is that one person that is a catalyst to a business. Maria took the time to help me through what I thought would be difficult with what I thought I had to pay to another company. She was very honest and trustworthy and I appreciate her so much if I could give her five stars +5 more. ***** Then she would deserve it. Thank you for allowing someone with the experience to be able to help me. I'm very pleased. Keep doing what you're doing Miss Garza you are being blessed. Thank you.
Mike and Patti Sorsky
Finding my insurance was so complicated and Maria never gave up. She was so thorough. I am very happy and relieved to have it done!
William M Sivick
Maria has done a great job for our firm and follows up promptly on open questions
5 Stars.
Stacey Ankrum
She has helped me numerous times with communicating with the insurance companies. Also, she always lets me know about required paperwork that I may miss otherwise.
sasan maknouni
I was trying to add one of my customers to my insurance and she was helpful and fast responded, I got the certificate in few hours.
Thanks Maria.
Collin Ingermann
I called with an urgent request and Maria was able to solve my problem the same day. She was efficient, resourceful, and pleasant to talk to.
Thanks again, Maria!
German Mendez
Very professional, she helped me with what I need it, took the to resolve my issues with my insurance.
Bob Leslie
I had problems correcting information about a new driver on my policy. Maria was very helpful making those changes. She's the best.
Ana Diaz Ruiz
I called looking for who my new account manager was . Maria took the initiative to give me the person's name and wrote her an email on my behalf.
I appreciated her customer service is rare these days.
Serna Hopie
Prompt response to my phone call
Les Van Meter
Maria is always professional and prompt when it comes to my business's insurance renewals. She is always easy to deal with and excellent on follow through.
Evangeline Obray
Our workers comp policy is due for cancellation and the agent assigned to our account was not answering my text and emails. I called up Inzone and Maria answered my phone. She went out of her way to call State Fund to make sure that our workers comp policy is not cancelled. Thank you Maria.
John Marchiano
Maria is very kind and provides adequate information. Thank you.
Graciela Coronado
Maria is always so professional. Is is very patient, always returns my calls in a timely manner and answers my questions. I always have a good experience when I speak to Maria.
Jorge Kong
Excellent follow up on request
Maggie H.
Maria is always available to assist us with our insurance needs. She is very professional and follows up with us on our requests. We greatly appreciate her help!
H. Ellis
Maria is thorough with her communication and action requests.
c. hodge
Maria was very helpful, personable, and all around delightful.
Robby Antoyan
I appreciate Maria's patience and understanding to the various issues that come up for insurance coverage. Very professional.
Thank you.
Barbara
Maria Garza helped us so much in our changes we made. If we didn't get our answere, she got us to the right place. She is a real treasure to the company I
DUANE QUENZER
She is very helpful and fast with getting the documents I needed. She explained the process clearly. Thanks
Donna Mckeown
Great job and it was nice to have Maria send me a reminder that my insurance was due soon. As I was not home and I couldn't see my bill. Thanks
Inszone Submission Desk
We are grateful for all the assistance from Ms. Garza
A. Glen Vietti
I spoke to Maria this morning for the first time and was immediately impressed with how quickly she understood my need to add coverage on my existing policies. I found her to be very knowledgeable and interested in a positive outcome for me. A delight to work with competent people. Thanks again Maria
Martin s Jelacich
I walked into the office wanting to know who my agent is. Maria told me the accounts have not be distributed to the agents. She said if you have a problem I will take care of it for you. She gave me her busiess card and I departed a happy man. A problem did develop and I contacted Maria. She took care of my problem right away.
Maria is truly 5 stars when it comes to customer service.
Alice Takeda
Very efficient… very personable…very informative.
A positive, pleasant experience dealing with my inquiries…thanks to Maria.
Sandy Range
Maria is always very friendly, and her follow-up is fantastic! We recently required a bond with many stipulations, and Maria made the process quite painless. She is one of the main reasons why I don't even entertain other agents when they call soliciting our business. Thanks, Maria!!!
Patricia D Fairbanks
I have been working with Maria recently. She has been incredible helping me naviagate all my questions & concerns. I so appreciate the Great customer service she has has consistenly provided, in a very professional and friendly manner. I hope she is acknowledged for her work ethic and incredible customer service.
RicKy Ratra
Maria was very helpful she helped me all the way and answered all my questions I'm looking forward to working with her on my second location also
Mike and Patti Sorsky
Very pleasant, explained everthing very well.
Patricia (Patti) Sorsky
Maria has been extremely patient with me. I was not able to fill out some of the forms she sent me as my computer needs help. So, she arranged to meet me at the office where she helped me fill them out. I really appreciated her help.
Servando Sauceda
Maria Garza went above and beyond to resolve my situation ❤️ Give recognition of some kind for her professional knowledge and keeping me as a long customer
Servando Sauceda
Awesome!!!! 👏👏 Maria went above and beyond to help me out with my situation please give her some kind of recognition, she gave me peace of mind that it will be taken care of 👍
Stacey Ankrum
Always helpful. Keeps me informed and current on my insurance needs.
Jack Steck
Marie and Steve. did a great job in finding the best insurance company for our apartments, saving several thousand dollars per year. She is Very competent at details and meeting deadlines.
Mickie
Maria did an amazing job to ensure we had the correct coverage and to meet our deadlines. Thank you for a job well done!
Deborah Palmer
Love Maria! Extremely helpful, responsive and knowledgeable! Thank you for all your assistance Maria!! With Kind regards, Deb!
Lennie Slaughter
Great service, as always!!!
Theresa Winters
Maria is always helpful and happy voice when I'm stressing out. By the time we hang up I'm feeling better. Maria always calls back and follows up with email to me. She makes my life easier!!!
Thank you Maria for all your kindness.
Al Garcia
My agent, Maria Garza, is the BEST! She's professional and a pleasure to deal with. Always has the answers for me and is quick to respond to my emails and phone calls. This is one reason I remain a loyal customer. Maria, you are the best! Good Rates on my insurance needs, too!
Jeff A Halstead
Great help with various insurances and coverages – especially in the Covid crisis.
Sarah Brannon
My Conservatorship requires a bond and Maria has provided very excellent service to me currently and in the past. Thank you.
Mary Murphy
I received positive, prompt, and thorough service from Ms. Garza. Thank you!
Shanny Baughman, MD
Maria was very helpful and patient. Followed through and provided excellent customer service.
ROBYN L ESRAELIAN
Maria followed up on a matter that I had forgotten to follow up on! and she took care of the matter promptly, efficiently and accurately. Thank you Maria!
Kelly Fitzsimmons
I contacted Maria about Insurance documents that we needed from one of our contractors who was scheduled to start work on site. Maria was not only very helpful and quick to provide the requested insurance, but she was also very polite and a pleasure to deal with. I couldn't have asked for a better experience.
Yanet Villa
It's always a great experience she is very helpful an a excellent agent