Mariya Benza
Commercial Lines Account Manager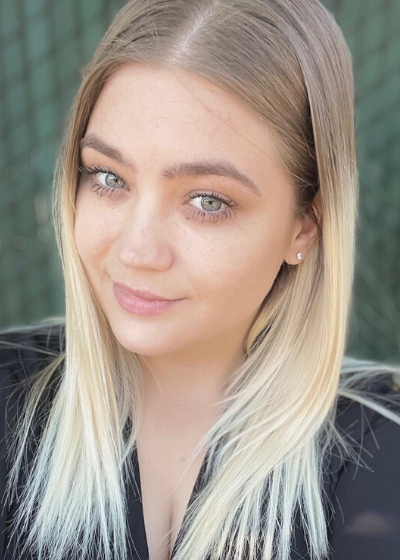 Leon Gladshteyn
Our best complements to Mariya Benza! Very knowledgeable, super professional, and very customer-oriented person!
Sincerely,
Leon Gladshteyn and Esfir Gladshteyn
CEO's
Abigail Perez
Working with Mariya has been an absolute delight from the very start. Her dedication to her role is evident in every aspect of her work. She truly excels in providing top-notch service that goes above and beyond my expectations.
Mariya's responsiveness is truly remarkable. Whenever I reach out to her with questions or concerns, she is always prompt in her responses, ensuring that I never have to wait for the information I need. This level of attentiveness has made navigating complex policies and procedures feel like a breeze.
What truly sets Mariya apart is her ability to explain policies thoroughly and in a way that is easily understandable. She takes the time to break down intricate details, ensuring that I am fully informed about the coverage I have and the options available to me. This has been invaluable in making well-informed decisions for my business.
Working with Mariya is not just efficient, but also incredibly pleasant. Her friendly demeanor and positive attitude create an atmosphere of collaboration and trust. It's evident that she genuinely cares about the well-being of her clients and is committed to their success.
One instance that truly stands out is when Mariya went the extra mile to contact my customer in an effort to save us money on insurance requirements. This level of proactive dedication is a testament to her commitment to delivering outstanding service and looking out for her clients' best interests.
This company's knack for hiring experienced professionals is highly commendable, Mariya is a prime example of their excellence, and Israel Sepulveda is also another prime example. I have full confidence in acquiring additional commercial coverage due to my experienced professionals. Mariya's exceptional service instills a sense of trust that is priceless in the world of insurance.
In conclusion, it is always a pleasure to work with Mariya and her exceptional team. She is an asset to the company and an absolute joy to collaborate with. Her prompt responses, thorough explanations, and genuine dedication have made my experience truly remarkable. I can't thank Mariya enough for the peace of mind she brings to my business's insurance needs.
Kim Manning
Miss Benza has always provided great service,Kim Manning
Eileen Foley
Mariya was very helpful in getting our Workers Compensation policy renewed for the 2023-2024 year. She responded quickly and ensured we met our deadlines in getting our policy renewed.
Joey Vargas
Mariya is a great asset to your company , always very professional and helpful when dealing with any problems or questions I may have had . Mariya was always doing her best in due diligence on getting the best cost for all my insurance needs. It's always a pleasure working with Mariya 🙂
Victor Smith
Mariya – has shown fantastic patience and perseverance in handling my contentious worker compensation issues. She is guiding me through the GL audit process as well. I consider her as a part of my core team. Thanks, Mariya.
Joseph Vargas
Excellent Service , very helpful and knowledgeable and a great asset to your team !!
Leon Gladshteyn
It was a great pleasure to communicate with our new account manager Mariya Benza. She is very knowledgeable, super client oriented insurance professional and easy going person. Ver positive experience! Thank you very much!
Erick Edwards
Great Fast and Attentive Response
Thank You!
Erick
Kevin Eszlinger
Thank you for your services. I am very satisfied with the service from your desk and inszone insurance. It would be great to continue working together. I had to surrender my business of 25 years to multiple economic environment factors and events.
Still working on new ideas to reenter the self-employment world. Once that happens, I will be back to inzone and reach out to you.
Michael R
Mariya was friendly, helpful and efficient. Went above and being for a simple task. Thanks!
Doris Deleon
I spoke with Mariya regarding an expired quote. It was delightful to speak with her and to explain the status of the quote/bind request. She is very professional.
kim manning
I have had all my business insurance with inszone for many yrs,I was pleasantly surprised by how professional
and knowledgeable Mariya was.
Jeff
Mariya is a fantastic ins agent she worked hard on finding us an affordable worker comp ins policy thanks Mariya
Alejandro Rios
When I work with Mariya, she is the agent I always wanted, respond emails, phone calls, and if she said I will have it tomorrow, she will have it no mater the situation. 10 Stars for Mariya Benza.
Jose Garcia
She was very helpful and and nice!
Very happy to be helped by Mariya.
Rory a. Gies
I walked in without an appt.and Mariya Benza made time for me to take care of my renewal updates. She went over everything and was very professional and helpful. Great doing buisness with her and all of the staff that have helped me in the past. Thank You!
DEBBIE ASHTON
MARIYA is always couteous and patient when i need a report or have a question she is very prompt at getting it for me. She can always answer my questions right on the spot.
Werner Menard.
My experience working with Mariya was ver satisfying.
Mariya was very helpful and professional.
Thank you.
Nancy Watts
Mariya was very easy to talk with and made things easy (short and sweet for us busy people)