Sun Choe
Senior Commercial Lines Account Manager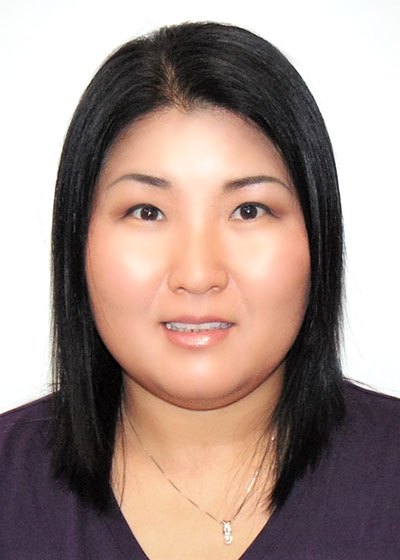 Hyun Kim
I always thank you for your responses which are prompt and accurate.
Thank you again.
Shannon Strong
good communication and follow up
C De Leon
She is very prompt , knowledgeable on all aspect of insurance services and always provide good recommendation.
Very professional. Your the best.
Myrna Han
She is very efficient and cost effective at what she recommends. Always reachable and knowledgeable to answer any concerns.
Phillip Kim
친절하고 신속한 서비스에 만족합니다.
Translation:
I am satisfied with the friendly and prompt service.
Teresa Kim
Always prompt and courteous with requests. Thank you so much.
Anna Kim
She performed my inquiry with quick and accurate service. Well done. Thank you for your cooperation.
jung w choi
꼭 필요한 부분을 차분하게 잘 도와 주셔서 감사 드립니다
Translation:
Thank you for helping me calmly with the necessary parts.
Sonya Reyes Khachatryan
Sun Choe is a very knowledgeable agent. Sun is very responsive and professional.
Mike Salas
Excellent
Thank you so much
Sunsip Jeong
She kniws what is good for client.
Phillip Kim
Sun 씨의 신속, 정확하고 전문적인 뛰어난 서비스에 만족합니다.
Translation:
I am satisfied with Sun's excellent service, prompt, accurate and professional.
Denise Williams
Sun is very professional and I appreciate her patience.
Tae Jin Oh
Thank you for your prompt response to our request and diligent follow-up.
And thank you for an excellent customer service.
Jimmy Lee
Any kind of question she handles immediately well.
Beside she does pick up the phone quickly that satisfy me .
She does solve any problem.
JaeYoon Suh
Thank you for your excellent work.
Su always gives excellent customer service.
Inszone Submission Desk
We are grateful for all the assistance from Ms.Sun Choe for Echo and Binds Purposes.
JC
Sun, was positive and easy to work with. Everything was smooth and easy. Thank you so much for help!
Denise Williams
Sun is always very clear with her request. She is also very professional and friendly. I appreciate her business and business acumen.
THANKS SUN!
Chris park
She makes me so comfortable.
gio
thank you for the quick work
Mike
Thank you for always kindly answering me and watching till the end, even if I ask a lot of questions due to the lack of understanding.
gabo tracking
Thank you for always taking good care of me
Shannon Strong
Su always provides great customer service. thank you
이영하
I was always impressed with the quick response and work done. thank you Please continue.
SUNAMI CHUN
Great person, very professional!
John kim
Great service and always dependable
Emily Chung
Her reply was very prompt and great services.
Jung Wu
Great, friendly service. Step by step instructions as to how to get started. Thank you!
Tony Kagoshima
She has detailed work for customers. She will finds a low price but fully satisfactory policy. Good customer care.
Shannon Strong
Very good customer service. quick and smart. Always a pleasure work with.
Briana Kang
Sun is always prompt, organized and very professional. She has makes things so easy for our business. She always contacts us to make sure our policy is up to date and answer any questions we have. Her assistance and work is timely and excellent at all times.
Cynthia McQuillin
Thank you for submitting the records requested in a timely manner.
Glenda Asuncion
Sun Choe is courteous and professional. She replies to my requests and provides follow-ups and updates in a timely manner. I enjoy working with her.
Sean Yang
Very supportive and great service with quick response. Thanks!
CT
Sun, thank you very much for helping out. I couldn't have navigated the worker's compensation insurance audit without you! It went from our business owing money to getting a $1,000+ reimbursement. Amazing!
Yilgul Joseph Yun
she was very helpful and knowledgeable and answered all of my questions
Donny Kim
Sun has excellent customer service and follow up skills. very prompt
Daniel Kim
Sun has been working with my businesses for many years and I trust her for all my business needs. She is kind and always gets the work done quickly!
Chung, Wang
Very quick and excellent service.
Andy
Excellent service and follow up
Daein Song
친절하시고 좋은 보험알려주시고 일처리하시는데 작은것까지 자세히 설명하여주셔서 잘이해할수 있어서 감사했습니다
Kyong Jang
일처리 빠르시고,정확하고 자세한 설명, 제게 필요한게 무엇인지 잘 이해하시고,열심히 상품소개 하시면서도 마음을 편하게 해주셔서 감사합니다.
좋은 상품 찾아주셔서 감사합니다
Eddie Kelly
Help with scheduling inspections.
Yoon, Kyung
Sun gave me quick response and tried to
take care of customers.
Excellent!!!
Christine Directo
she's great to work with and responds qickly to email
inchul park
보일러 문제로 클레임을 신청 하였는데
신속하고 정확하게 업무처리를 하여
주셔서 안심하고 믿음이 갑니다
Inchul Park
친절 하시고 업무 파악을 잘하고 계셔서
어떤일에 확실하고 빠르게 일 처리를
하여주시고 고객 입장에서 도움을
주시려고 노력하여 주셔서 감사한 마음 입니다. 일을 믿고 할 수 있어서 좋습니다
R
Sun is super helpful, quick and responsive! Gives peace of mind with her work ethic. Sun makes a big difference with the top notch service and kindness she provides!
Vickie Aladzhyan
It was a pleasure working with Sun Choe.
Arnel San Diego
Sun Choe is easy to work with. Detail oriented and she knows what she needs for a quote. Her application are complete.
Jimmy Lee
She 's been always punctually handles my curiosity without hesitation.
Make me very satisfy all the consultation.
Charles Yi
She is always very responsive & works efficiently.
Kelly Kim
Sun is always friendly and responds quickly to all questions.
Sook Hee Song
Worker's compensation Audit 할때 Ms. Sun Choe 님이 신속하고 친절하게 잘 알려주시고 도와 주셨습니다. 감사합니다.
Michelle Cole
Sun has been very helpful through the whole Covid 19 and working with our company that is a catering service making sure we get changes made to our policies and saving us money when we had no income.
Mitch Harris
Sun has been amazing for years To us. We couldn't be happier with how she handles our account.
Luz Farias
Very pleasant, and quick replies. i appreciate the assistance.
Brittany
Sun is quick to respond and sends over anything you need in real time.
Lee, Seong Chull
She was very nice to answer my question. And I appreciate very much her prompt attention for my request. It was preasure to talk to Sun Choe
Cedric Gomez
Sun is very friendly and easy to work with.
True asset to your professional lines team!
Phillip Kim
친절하고 신속한 전문서비스를 받을 수 있어
업무에 많은 도움이 됩니다.
Hyun Kim
She is so kind and give a correct direction, and fast respond. make my work easier!
David Yun
This agent has been fabulous in her professional way of taking care of client's need. She is not just one of many agents. She proves herself to be the agent in her career. We have been being helped in every detailed matters.
Howard Kim
She does excellent service.
she responded quickly working.
Chris Park
She is so kind and give a fast answer.
Excellant worker!!!
Jason Lee
In general, she realizes very quickly what I mean, I didn't meet her, but I think she's a pretty smart person. And I feel better after conversation with her always.
Yong Lee
very helpful and so professional. I like your service.
Marc Ner
We have been working with Sun for 10+ years. She is definitely the best. Thank you Sun!!!!
Patrick Kim
Sun always directs me in the right direction for any insurance inquiries I may have. Great service!
Jae Song
As always, excellent service for more than 10years for us.
Thank you.
Jee Hwang
Sun makes the process extremely easy and is very helpful.
Eunice Kim
She gives us fast response, She has enough knowledge of insurance and it is helping me a lot by explaining it in detail.
Steve Yoo
She does excellent service !!
Diana
Sun is very helpful and always prompt with all my needs.
Carolyn De Leon
Sun Choe is very helpful, quickly response to all communication and assist their client
in all aspect. She has the knowledge of what they are offering and explain it to you in details.
Sook Hee Song
Sun Choe is detail oriented. She response quickly and her application submission is clean and complete.
Jay Sung
Sun has great response time.