Georgette Shao
Personal Insurance Specialist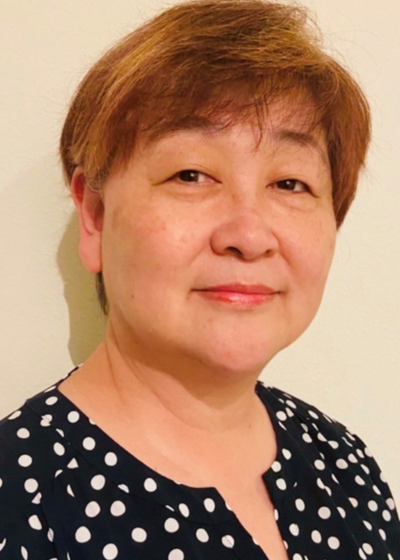 Mei Yu Hsu
Georgette was extremely helpful and cautious. She was very knowledgeable and a true professional. Will recommend her to anyone without any reservation.
Shin Chung Shao
Very good service, clearly explained every detail, honest and fair to the clients.
Mei y Hsu
Georgette was very patient and explained very clearly to me. She provided excellent customer service and I will definitely recommend her to my friends.
SHIOW-CHING JANG
Georgette Shao, she worked very hard with our case, made me and spouse felt comfortable, especially he retired recently, ,
thanks a million, you are so great!
DAVID LI
GEORGETTE, SHE SPENT TIME TO DISCUSS WHICH WAY BEST FOR US, SHE TREAT US LOOK LIKE FAMILY MEMBER,
SHE REALLY BE WONDERFUL EMPLOYEE.
SHARON LI
Georgette Shao, she listen what customer need to advise their insurance coverage, then make quickly change, very helpful,
save our time and money, anyhow she's excellent employee.
Marc Binder
Georgette was GREAT. Very helpful and went out of her way to get my issue resolved quickly!!!
Bhagwat N
Excellent service provided by G. Shao. She understood personal needs and specially recommended proper solution for new comers like us. Using our IDP for auto insurance was very helpful. Thank you!
Jonathan Elton
Georgette has done a great job for our family with a good choice house insurance, and we are very happy with the service provided and highly recommend her to others.
MOKIANG WANG
Recently I gave a call to Georgette regarding the car staying inside the garage for over a month. She was very nice to provide the solution to save money immediately. As long as I can provide the time period within the email each time. She can change the auto policy accordingly. I am very lucky to have her as my agent.
Thanks for her excellent service.
Mat Hsu
Quick response and got that what I needed. I do recommend to other people and my friends.
JESSICA LI
Great service to help us reduce premium, Thanks a million!
Mat Hsu
quick service, get everything that I needed!
Guan Tiok Teng
Georgette helped me to source for a two car insurance. I have try on my own and I could never get the quotes down to my target price. Within a few hours of my call with Georgette, she found a quote that saves me several hunderd dollars !! Georgette is very professional, patient and listen intently to ,me. I am so glad i found her, definitely will look for her for the next period quote !!
Sam Fu
Over all, Georgette is the best lady, she get rid of all the trouble for us.
David Frisbee
My experience with Georgette personal service is great complete totally, over satisfied!
MAY LAU
Georgette help analyze all the items, procedure detail, clear all the problems, we are very happy to have her deal our all the insurance.
Alice Wong
Georgette Shao, she work very hard with us, make me and spouse very pleasure, overall she's qualify be select the employee
of the year, thanks!
Albert Jin
She quote the rate is reasonable, even she remind us to get ID card, she's kind and awesome lady!
Gloria Jin
We looking for several insurance, finally select the right insurance what Georgette research perfect coverage for us,
thanks a million!
SOPHIA LI
Georgette very reliable, make me no worry about join your company insurance.
SHENG-CHYI LI
She work diligent altitude, solve problem quickly, very awesome!
SHIOWCHING LI
Georgette Shao, she has patience, explain detail to me, overall she's very wonderful lady. She did great job, solve problem right away, very efficiency!
Tansiongco
my experience with their company has been very positive all around. Amy and Georgette makes even better…addresses all concerns efficiently and offers the best options for your needs. They are kind and honest.