Paige Salatino
Senior Commercial Insurance Specialist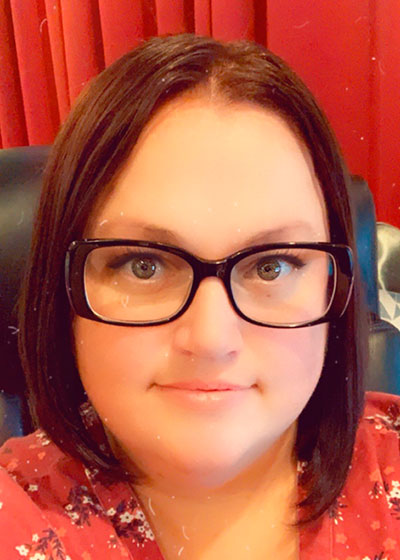 Charlotte Leach
When everyone else puts up roadblocks this place especially Paige Salatino gets the job done. Want your phone call returned? Want great customer service? Then call Inszone Insurance Services. Thank you, Paige, for all your help.
Jessica B
First rate customer service!
Paige was extremely helpful with answering my questions. She was efficient in executing my Notary bond and E & O insurance. It was completed within 24 hours.
Dominik Baldassari
Paige has been a pleasure to work with always available and helpful gets things done promptly and is an awesome communicator.
Gregg Coop
Very fast, super easy! Absolutely easy. I expected some hassle, but there was none. THANK YOU Paige!
shelly dye
paige was very helpful and helped me out alot. thank you paige
Paula Steib
Paige has handled our insurance needs for many years and is always there when we need her to answer questions or take care of changing needs.
Evelyn Grace
I've been working with Paige since 2017. I love her! She's honest and understanding, but also firm and pleasantly persistent. I value our partnership very much!
Steph Gosney
I've worked with Paige for close to a decade now. Her and her team are always a delight, very responsive, and I'm truly grateful for the partnership!
Thanks for your support! 🙂
Eddie Roberts
Paige is always on top of things, always finds the best deal. She is polite and friendly. She is knowledgeable and helpful. I have know her for years and it is always a pleasure to talk to her.
John
Paige is fantastic very helpful person.
Can't say enough good things about Paige
Thanks for all your help
Jo Ann Miller
Paige was great. She got back to me quickly. and answered all my questions.. She sent me a quote in a timely manor. She was great to work with. and sent me all the. documents right away . Thank you for making this a great experience.
Russell Ashley
Paige has been extremely professional and efficient with her time in assisting me with quotes. Her skills are unparalleled and her knowledge is limitless!
Leon Croskey
Fast & Reliable swift easy seamless experience
Alan Sharp
I called Paige on a Monday afternoon while shopping for several business insurance policies. She sent me four quotes that met the requirements, and everything was finalized by Friday. Paige went above and beyond by working late on a Friday evening to make sure I had everything I needed. Her professional and pleasant attitude made it easy. I would recommend her (and Inszone Insurance) for all your business insurance needs.
Taydn Granger
Paige is very knowledgeable in commercial insurance. She as able to get me quality General Liability and Workmans COMP at a good rate.
chris dauphinais
Paige is excellent to work with
Dianna Anderson
Lauren was able to help me get a certificate of insurance so our event could go as planned. I thought I had done it several months ago and 2 days before the event I found I had not. She was very helpful and was able to get the info I needed so our event could proceed. So very thankful for both her and Paige and all they do for my organization.
Jeremy Dauphinais
Super helpful and really nice!
Mike Easter
Paige is very helpful, professional, friendly and a great person to work with! It's been my pleasure working with her. She always helps us with all of our needs in a timely fashion. Thank you so much!
Larry Williams
Paige has been my insurance agent for many years, and I was very happy that she was able to provide the coverage I needed. Thanks Paige for your assistance.
Roberta Vazquez
Page was very professional, knologeble, and had the outstanding customer, service. my experience was excellent. Thanks.
Richard Navarro
Paige is very helpful and gets things done in very professional and helpful way.
Jim mazewski
Paige answered phone call 1st try, was friendly , pleasant and made the process easy..
Marilyn Cotton
She was very helpful and pleasant. Call back like said with the information I need.
Jim Ahrend
Paige is always helpful and on top of everything and very pleasent
Jessica Cardenas
Paige was absolutely amazing and helpful ! -Thank you from MnM Pros Works Inc
Shelli Briley
Paige went above and beyond for me and my company to find the best possible option at a price that was more than amazing. Her exceptional customer service really stands out!! She was patient with me while I asked many questions and explained things in an understandable and helpful way. I'm so glad I was able to work with Paige and her company, I highly recommend her!!
Ryan Staffa
As a satisfied customer, I highly recommend working with Paige! She has provided the best quotes for me and has been an outstanding Insurance Specialist for all my needs as a business owner!
noe
Paige was very professional, prompt and patient with me. I would recommend her and Inzone anytime!
Steven D
Paige was kind enough to help me set up an auto policy while Inszone offices were closed! She was very gracious and helpful. Also want to shoutout Saul, my usual rep. Inszone is fantastic.
Jennifer Cooper
Paige is always there when I need her. She has created multiple policies for me in which I've never had an issue with any of them. She is my number 1 !
Sean Urciuoli
She is amazing. Was super fast and efficient. Awesome
Rosa Elena Ruiz-Rocha
Paige assisted me with all the questions that I had. Paige kept in touch with me through the entire sign up process. I am very satisfied with my interaction with Paige. Most definitely will continue to do business through Paige. Thank you.
Belen
Paige has been amazing! She's so helpful and knowledgeable. She has made the process of getting insurances for our new business so easy! Will definitely go back to her for all our insurance needs. Thank you!!!
Ronda Dodson
It has been a pleasure working with Paige, she helped me so much got the ball rolling, now I have insurance for my new in business and very affordable, I will recommend her to anyone that is starting a business Paige Salatino thank you very much
Erin Clark
I was having issues with current (now former!) agent and carrier getting some endorsements just right for a particularly picky property manager. Paige got me dialed in very easily AND cut my premium by 2/3s with increased coverage!
James Leach
Paige was super helpful and had all the answers to my questions. Getting this insurance coverage was super easy, and the paperwork was effortlessly. Would recommend anyone I know to use this company for their insurance needs.
LORENZO PEREZ
Paige was able to help be with my Commercial Auto Insurance . She was very helpful , had insurance for me with in 15 minutes , emailed me ID card , and followed up to make sure everything was completed . She was great , I am very very happy with her customer service skills . Thanks , Paige .
Jacob Willis
We have been working with Paige for several years now. She has excellent customer service. Highly recommend her for all of your commercial business insurance needs.
Eddie Roberts
I have known Paige for many years always happy helpful and friendly and gets things done quickly always have the answer to my questions very knowledgeable she is my go to person to get things done One of the best.And I just started dealing with Lauren with my non-commercial policies and she is great also got my bill down recently when I added a RV to it thank you both for being the best at your job Eddie Roberts
Arturo Benavides
Page was extremely helpful! Especially under the circumstances where I have been being hacked and it has been made difficult for me sometimes to send and receive emails. She made it fairly easily to finalize the entire process in a matter of a couple hours and get the proof of insurance over to my contracting employer very quickly I am extremely happy with her service. And will definitely recommend her to anyone and everyone who might need the same type of insurance coverage.
Mark
Excellent service! Been in business for a 20 stretch and best service I got. Thanks again!
Jerryfmattos@gmail.com
Did not want to read 125 page policy to find answers. Asked questions and got answers by page numbers with explanations. Now that's is a PROFESSIONAL.
Kody Burkett
100% recommend Paige. Excellent service, but most importantly, she follows through with what she says. I got a call back within 2 hours instead of having to call back multiple times. Wish she was the first person I called instead of the third.
Abagale Dauphinais
Paige is absolutely awesome! I definitely recommend getting in contact with her if you're in need of insurance!
Fj construction inc
Thank you Paige for you hard and excellent work.
Michael A. Wilson
Paige has always been verry professional, efficient, and a pleasure to work with.
STEVEN M JOHNSON
Paige was proactive and on time through every aspect of our insurance placement for three different policies.
Her work was detailed and accurate. Her attitude and enthusiasm were exemplary. It was a pleasure working with her.
Ry Rocklen
Working with Paige was a dream come true. She set me up with the insurance I needed overnight. Amazing service, thank you Paige and Inszone!
Kathi
Paige and Lauren are super knowledgeable, very thorough and extremely reliable! I could not run my business effectively without them. Thank you for all that you do!
Leigh Ann June
Paige has been taking care of our business and personal insurance for 15 years maybe longer. She always has been professional and friendly. She always goes the extra mile.
Jennifer
Paige goes above and beyond to help us with any questions that we may have. I could not ask for a better agent.
Albert De Silva
Paige made my experience with Inzone Insurance enjoyable. It was her happy go lucky attitude and her follow up calls that sets her apart. She is an asset to this company. She's fun and has a sense of humor that has made this time with Inzone an enjoyable experience even to the point that you want to make sure your payments are made on time because you sure don't want to disappoint her efforts. That as a whole makes her an awesome person and Inzone should feel lucky to have her on their team.
Adan
Paige helped us get the best insurance for our business
Michele Sullivan
We've been a client for 15 yrs. I enjoy working with Paige and she's always ready to help with any question or problem I may have. She's prompt and thorough.
Heidi
SUPER HELPFUL!!!!! Absolutely the Best!!!!! Thank You!!!
Cindy
Paige is professional and provided timely response to my request.
Daniel Givens
Called in with an emergency billing problem, somewhere some wires got crossed up for autopay at the start of a new policy year…. Paige went above and beyond to make sure the problem was rectified before we got off the phone. Hope to deal with her again! Thank you!!
Rexanne
Paige is always extremely helpful. Whenever we have ever needed help, she was on top of it. Always fast and efficient with excellent customer service. She always go above and beyond for us. Whether it is after hours new vehicle insurance, personal reminders about policy renewals or payments, or walking us through bond documents for our property. The assurance that her help is just a phone call away is priceless!
Keri Murphy
Paige has been handling our commercial insurance needs for years. She is always positive, helpful, responsive and professional. Her service is always exceptional.
Donna Flair
Always Fantastic service and never makes me wait. She takes care of me like family!!!
Dianna Anderson
Paige has been so very helpful – our board officers changed this year and I she has been so helpful to ensure our coverage does not lapse. One less thing to figure out for this new board. Thank you
Janet Johnston
Paige is the best! Professional and efficient, and knows how to listen in order to help us with our needs for our company!
Sky
Promt courteous and a pleasure to converse with.
Ms. Salvation was a blessing when I needed a certificate of insurance and was not at my office.
Pete Morganelli
Very helpful and friendly.
Pete Morganelli
Debra Pooe
Paige has been my agent for over a decade. Paige always does an amazing job and I highly recommend her to friends and family .
Sally Jayes
Paige is so respectful and thoughtful. We love working with her. She is well informed and gets back to us immediately which we appreciate.
Amber Line
I have been working with Paige for many years. She has always been very helpful and amazing
Bruce Campbell
Paige is great! My company has had the pleasure of working with her for many years. We've had last-minute emergency requests that she always handles with the utmost urgency and professionalism. If I have any questions she is very reliable in response times and makes sure I truly understand what I need to know. Highly recommend her for small businesses like mine that really need a personal touch in account handling.
Joseph
Paige is the best. Always has been there when needed
Mary
Great experience ! Very easy to work with and made the insurance selection and whole process a breeze. Would definitely recommend .
Daniel
Always a pleasure to work with. I would recommend.
Arthur Cappello
Great experience. Paige is always helpful and gets us the best deals!
Linda Paino
Paige Salatino has been handling my insurances need for the past 10ish years.
Paige is my go to gal for all my commercial Clients. She has saved many escrows for me. I give her name to all my clients.
Here service is very hands on.
I give her an A+ rating
JOSE DE JESUS NARANJO
she has been more than helpful with us and definitely recommend her!
Donna Cappello
Paige is an outstanding representative for Inszone. She goes above and beyond to ensure the customer is completely satisfied. There really is only one Paige for exemplary professionalism and courtesy!
Bob Collier
Paige is truly professional and courteous in handling any problem or questions I had with my billings
JOHN HOSMAN
Paige does a great job always returns emails and phone calls promptly !
Dawn
She's excellent customer service
Karen Brodie
Paige is always efficient, communicative, and has great patience. She provides excellent service for our nonprofit.
Shane
Paige was very concise and clear with her communication. I called Paige after getting the run around with another broker. She was prompt and handled everything I needed. Thank you Paige.
Chancey Chambers
Paige is awesome! She knows her job well and never fails to solve any problems I have. I don't know what I would do without all her help.
Mary A
Paige was a insurance professional I would work with again. Calls and emails were returned within the day.
Thanks for all your help.
Deane Locke
VERY Friendly, helpful, informative, efficient. Great service.
Kimberly Kropacek
We have nothing but good things to say about Paige. Thank you for all your help for over 20 years with our school insurance needs.
Jerry Kropacek
I have know Paige since 1996 when she used to work at local insurance company. Paige had been helping me with insurance needs since then. Very helpful, very resourceful, She is my agent!!!
Karlie & Aaron Bowe
Paige, thanks for everything you've done for us over the years, we know you have our best interests at heart.
Richard Pruitt
She never fails me. Never has NOT been there for me. No matter which business I need help with.
Eduardo Avalos
Paige is a very professional and listen to all my needs. She was able to meet my needs and exceed my expectations. I can't wait to grow my business with her solid work ethic.
Bill jones
I known Paige for at least 20 Years, she been helpful to me.
Richard Capelli
It's been wonderful working with her over the years
Tracie Benetier
Paige has been my broker foe many years and I love how she always takes care of me. Great job!!!
Randy
Wonderful experience, excellent service, and super helpful.10/10 would recommend
Charlene Mosley
Paige has always helped me with my personal & business insurance. I have known Paige for a long time and has never been unprofessional at any point.