Here at Inszone, one of our missions is to make sure that every employee is appreciated, acknowledged, and recognized for their achievements. This Employee Spotlight series aims to celebrate success and highlight the talented individuals we have at Inszone, Cover Cannabis, and California Pool Association. Each month we'll be featuring Inszone employees on our website, blog and social accounts.
Leah Barretta is a Benefits Account Manager at Inszone Insurance Services, joining Inszone in July 2021 after the merger with Interstate Benefits & Casualty Insurance Services. Leah has several years' experience in Small Group & Individual Family Health Insurance and has spent most of her career assisting individuals and families to obtain health benefits through the Covered California Exchange.
Leah earned her bachelor's degree in Liberal Studies and Master of Education in Cross-Cultural Teaching, from the National University. She taught high school history for three years and the following three years was a substitute teacher. Daily, Leah continues to use her education background to develop strong working relationships with those in need of health and medical insurance. Her extensive background in mentoring and explaining how systems work are her specialty, especially to someone unfamiliar with the language of individual and family health insurance.
When asked to share some words about Leah, Trent Julian who is a Benefits Department Manager of the West Region at Inszone Insurance and Leah's direct supervisor said, "Leah has been a very welcomed addition to the team. She is extremely bright and her expertise and knowledge in the individual benefits space is a real asset. Her motivation to always put the customer first is inspiring, as her reputation in Grass Valley area is highly regarded. This recognition is extremely well deserved, so thank you Leah for all your efforts, it's very much appreciated."
To get to know more about Leah, we asked her a couple of question about her and her time in the insurance world:
Q: How did you get into the insurance industry?
A: Being in the insurance industry is a complete surprise to me, it is something I never envisioned for myself. I studied to be a high school history teacher and when that did not work out, I was a bit lost. A good friend of mine suggested becoming an agent. She thought with my background in explaining & teaching complex subjects to those that are unfamiliar – coaching individuals, families, & employers / employees about health insurance might be a great fit. She was correct. I was hired by Interstate Benefits & Casualty Insurance in the Spring of 2018 to learn and serve the agency's Individual & Family health benefits, specifically all the Covered California customers.
Open Enrollment / Renewals starts in a few short weeks. I am looking forward to this short time of year. It is the time of year my entire job focuses on and gears up for. I am super lucky. I live and work in the small town I was born and raised in. A good number of my customers are childhood playmates or their parents. It is rewarding to know that I am doing the best I can to help my community meet their needs with great fair market rates.
In July 2021, IB&C was acquired by Inszone Insurance Services, and I have continued to assist our customers throughout California & beyond. The most exciting part about being folded into the Inszone family is the wide breath of leadership. I have always wanted a mentor in the insurance industry, and now I have several.
Q: What qualities do you have that make you a "great" insurance agent?
A: Working for Inszone Insurance Services, I lean heavily on the "Services" part of the company name. I enjoy solving challenging tasks and understanding the "why" & "what" of an issue. I want to know what the end goal is for my customers, and then backwards plan to reach that goal. Being able to communicate this to others to help them understand their health insurance is a great day. I often talk with people who do not understand their health insurance benefits & coverage for themselves & their families. When I can break down plan options into digestible organized parts, they understand their benefits and costs, it's a wonderful feeling.
Q: How would you define success?
A: I have a broad definition of success. It is more about who we can become and less about what accomplishments one can measure. I also do not think there are short-cuts to success. The path to it is: do, mess-up, evaluate, learn, re-do, try again – spin & repeat.
Success, for me, is most importantly helping others and making a difference in other people's lives. It's also about showing up, being positive, doing my best, and getting better every day. I screw up a LOT. Yet I am disciplined to strive to learn and do better. I just want to give "it" my best and the good Lord willing, things will work out and the growth I have is the success.
Staying humble is the most important key to success. This, and knowing I always have more to learn.
Q: What makes you proud to work in the insurance industry?
A: Money, income, job title, sales goals – these things do not motivate me. What helps me wake up every morning is: who do I get to help today. Who do I get to explain their health care insurance coverages and benefits to today. Communicating this, is joyful for me. You need a list of dentists in your area – cool, let me teach you how to find that primary list. You moved from the San Francisco Bay Area and no longer can use your HMO plan – cool, let me teach you and switch you to a PPO or EPO. Your eyes are starting to age – cool, let me add a Vision plan to your benefits.
Having an important purpose & serving my community the best I can is of the upmost importance to me. Working in insurance – it's an honest industry. It is straight forward. Everyone I work with has integrity. We treat each other, our customers, and our business partners with respect. I would have left insurance after a few short months if this wasn't the case. When I left teaching, I had a string of jobs that were full of people (co-workers & customers) that had major negative attitudes and unhealthy egos. I vowed to myself that in the future I would always choose humble, positive people with integrity to spend my workday with.
Something I have realized is any success I have received is due to particular people involved in my life at specific times of development. We do not succeed unless we have a team supporting us. The team we have developed in Grass Valley is integral for my ability to serve our customers. My co-workers make me proud. Their dedication and discipline are incredible. Did you know collecting pinecones is a business, one a person needs a commercial insurance policy for? My teammates in Commercial Lines know how to get that coverage for you. And with all the forest fires of the past few years, our Personal Lines department has great depth of knowledge to help families acquire homeowners' policies. The Benefits department at Inszone is just over a year old. I am proud of how we are growing and learning from each other. Change is never easy, yet we support each other so much, I feel like every year is going to be greater and better.
Q: How do you balance your career and family?
A: I learned in my late 20s that I am responsible (not my job or family) for setting the boundaries in my life. That is pretty simple to write, not as easy to do (time & time again). I turned 50 last month. As I look back on the past ten years or so, I have done this: set boundaries. Hurrah! Success! To be balanced… there is the emotional side, intellectual, spiritual, and physical. To be balanced, we have to attend to all of them. This tall order can be daunting. But the small things matter. With the smallest of adjustments, we can do better. With intension we can transform and improve the quality of our relationships and lives.
When I am at work; I am at work. When I am not; I am not. I limit my exposure to social media and junk news. Often, my cell phone is turned off. I focus on my "To Do Lists" and the relationships that are important to me. I am not a brilliant person. If it wasn't for my family, I wouldn't be able to help others. My family invests in me… so I can invest in others. I often get young adults referred to me looking for health insurance for the first time. When I get the opportunity to teach this person and explain plans, their options, tiers, carrier differences, and the foreign language that is health insurance… it is an awesome day. They walk away understanding their coverage and are much more likely to use it. It's win-win for everyone.
Q: What do you do in your personal time?
A: My personal time is spent relaxing at home, reading a non-fiction book, or watching a podcast. I like to watch my niece play sports at least once a month.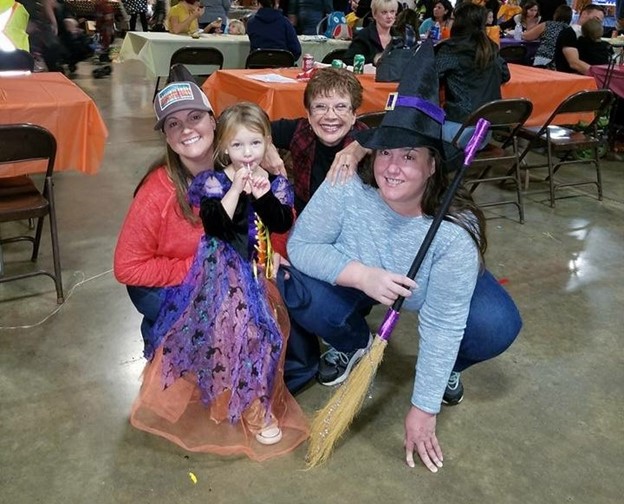 Q: Can you share with us a personal quote that you live by
A: The only person I can control is myself and how I react to others and situations.
Have an attitude of gratitude.
Thank you for always giving your best effort at work, Leah! Your dedication to your job is appreciated!
We are very pleased to recognize Leah as the next recipient of our Employee Spotlight. Thank you for always putting your best foot forward at work. Your efforts are highly appreciated and may you keep up the good work! Congratulations Leah!