Here at Inszone, one of our missions is to make sure that every employee is appreciated, acknowledged, and recognized for their achievements. This Employee Spotlight series aims to celebrate success and highlight the talented individuals we have at Inszone. This month, please join us in congratulating Kendall King, our Employee Spotlight for the month of November!
Kendall King is a Marketing Coordinator at Inszone Insurance Services. She received her degree in Human Communication with a concentration in writing and rhetoric from the beautiful CSU Monterey Bay. After spending some time as a Field Office Coordinator for the American Red Cross on an Army post in Germany, she discovered her love for the chaos of marketing, where no day is like another. She started her career in the insurance industry in 2020 and loves working in a field that exists to help others in their time of need.
Kendall started picking up marketing tasks back in 2012 but didn't really start focusing on marketing until 2016. Kendall joined Inszone in November 2021 after the merger with her previous company, Stromsoe Insurance Agency.
When asked to share some words about Kendall, Juan Cruz who is Inszone's Director of Marketing and Kendall's direct supervisor said, "Kendall is a pleasure to work with, she is driven and passionate about her work, always looking at ways to improve not only the department but of our agency overall. She always has a smile on her face and is eager to help in any way she can. I am sure that Kendall has a very successful career ahead of her, and I am glad that we have her talent helping to grow our agency and continue to take marketing to the next level."
To get to know more about Kendall, we asked her a couple of question about her and her time in the insurance world:
Q: Tell us about your start in the insurance industry?
A: I had just moved back to California to be near family, as I was a brand-new mom and needed all the support I could get. By the time my son was 6 weeks old, I was itching to get back to work but was new to the area and didn't have many contacts of my own. My mother was in a local rotary with a gentleman who was actively expanding his team, so I applied. I knew I'd be starting from the ground up, but after meeting with everyone I knew that it was exactly the place I wanted to be. Almost two years later that company merged with Inszone, and I feel very fortunate that I found my way into this industry, as it and this company have been good to me.
Q: What has been one of your proudest moments in the insurance world?
A: Since marketing is such a small portion of the peoplepower in this company, I am always proud when I get to see the impact my work has either for our clients or for the rest of the company. Whether it's getting a new sign on one of our locations, proofreading materials for print, or setting up a new email campaign, I know that my work both directly and indirectly impacts the experience a customer has and the resources the team has available to them.
Q: If you were not in insurance, what would you like to be doing?
A: In a previous position, I was working as a Field Office Coordinator for the American Red Cross on an Army base in Germany. The people you meet and the impact you have in that kind of organization, especially on a military post, is very evident and while I would not change where I am now, I hold my years with the Red Cross very close to my heart. If I were not in the insurance industry, I would likely find my way back to a similar position. I always loved working with the volunteers and other organizations on base and working with such a small team means you get to do a little bit of everything. I truly became a subject matter expert in just about everything we did, to the point that they had me delivering the brief about our programs to incoming service members and their families, as well as briefing the base commander and his team. I was also able to start an annual event that saw 1400 attendees in its second year and continued even after I moved back to the states.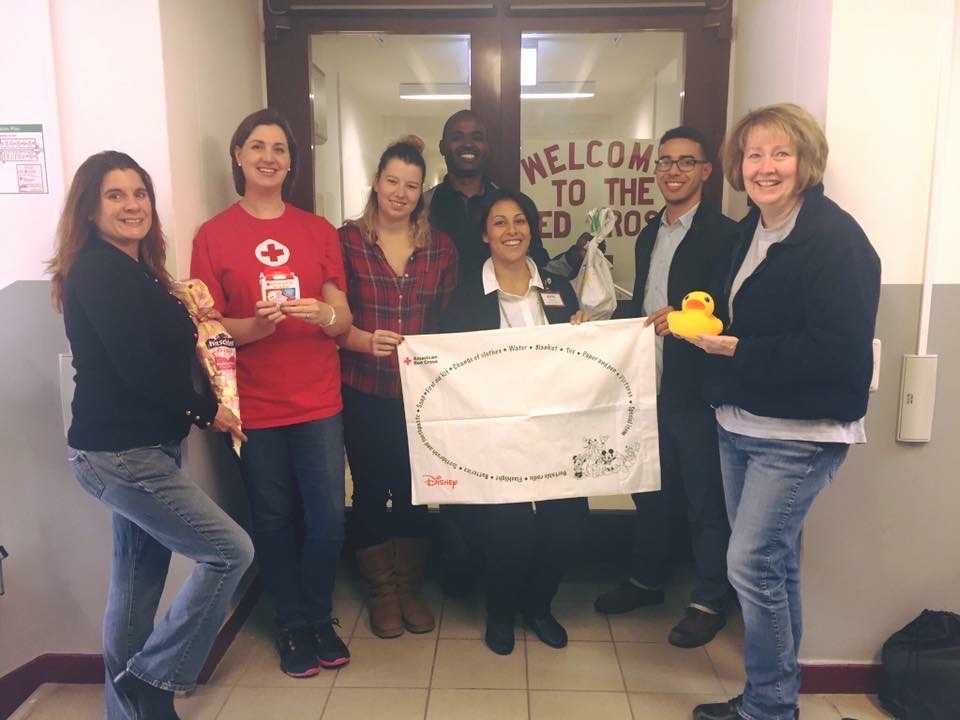 Q: What is your career goal?
A: I am still young and have a great deal to learn, so at this point my goal is to absorb as much as I can from those around me so that I am better prepared when I begin to make my way up the ladder. I was very fortunate growing up to be surrounded by attorneys, VPs, and C-suite professionals from various fields, and they have all taught me very important lessons not only about a strong work-ethic and attention to detail, but about leadership and the importance of supporting your team, regardless of professional status. I hope to be that same example for my son one day, not just in title, but in the way I present myself and support my team. It feels silly to think that way at times because he's so little, but children absorb more than we realize, and I like to think that he will learn more from me by the example I set than just the things I try to teach him. I look forward to making my way up but am more concerned with being ready for higher positions than blindly reaching out for them.
Q: If you could sit down with your younger self, what is one piece of advice you would share?
A: I would tell my younger self to stop and appreciate myself in the moment. Looking back, I am extremely proud of not only the things that I have been able to accomplish at such a young age, but also in the way that I handled myself in hard times. I have always been the first to encourage others and that they should be proud of themselves but didn't always stop to tell myself the same. Bonus tip, I would tell myself not to cut my hair short before freshman year of high school. Those were dark times.
Q: What's something you do outside of work that would surprise your co-workers and clients?
A: I teach tumbling at a local dance studio a few nights a week, have also trained another coach to do the same. I grew up in gymnastics and contribute a great deal of who I am to my sport and my coaches. It brings me a lot of joy to be that for a new generation and to be able to teach others to be the same, while focusing on safe progressions and strong sense of self for children of all ages. I have a set of levels, each with a specific list of skills they need to master before progressing and I have seen firsthand how a switch to this system truly drove a group of children ages 3-19 to be better. They have goals to reach for and they know exactly what they need to do to get there, all they have to do is put the time and energy into it and they can achieve great things. I always say that I took my hobby and turned it into my career with marketing, but with coaching I took my joy and turned it into a mission.
Q: What quote keeps you inspired in your day-to-day life?
A: First, my dad once said that life is not black and white, but an infinite number of greys in between. I may be a carbon copy of my mom, but that saying from him has been a guidepost to many of my adult interactions and experiences. Nothing is as we think it is, and we are doing ourselves and our communities a disservice to not at least look outside of our own thoughts and beliefs. It is in challenging what we think to be absolute that we find so much more.
Second, if you can't climb the mountain today, find a hill. I am a very ambitious person and on occasion this can leave me a little burnt out, and it is on those days that I remember that I don't always have to climb the mountain to feel accomplished. Some days, I can take on the world, and other days are meant for staying on the couch while my toddler describes in great detail why his left leg is faster than his right leg.
Working in the insurance industry gives me a strong feeling of purpose because although everyone needs insurance and you could throw a stone and hit an agent, the people I work with obviously care about the person or the business behind the policy which unfortunately isn't always true. The team that I have the pleasure to work with everyday has made my switch to this industry, and later the merger with Inszone, a great one.
In my personal life I am blessed with an incredible mom who teaches me still that I can accomplish anything I want in life, and a beautiful son who (although he tries my patience at times, as any toddler would) is everything and more. I have a dachshund mix that is the reincarnation of a cat and can be made happy with sunlight or a blanket and cares not for dog parks and chasing toys. I work hard every day to be a contributing member of my family, my community, and my office and I have learned many a thing as an observer of the world around me. I am very appreciative to be named the Employee Spotlight for the month of November. I truly enjoy the work I do, and it is a privilege to do so with such an amazing team.
Thank you, Kendall for a job well done! Your dedication to your job is much appreciated!