Here at Inszone, one of our missions is to make sure that every employee is appreciated, acknowledged, and recognized for their achievements. This Employee Spotlight series aims to celebrate success and highlight the talented individuals we have at Inszone. This month, please join us in congratulating Angelica Barnett, our Employee Spotlight for the month of May!
Angelica Barnett is a Senior Commercial Lines Account Manager at Inszone Insurance Services, joining Inszone in July 2021 after the merger with Strachota Insurance Agency, Inc. Angelica has been a dedicated insurance professional for over 30+ years, where she began her career as a receptionist, later transitioning to Account Manager. In her current role as a Senior Commercial Lines Account Manager, Angelica develops long-term relationships with her clients to help meet their needs by determining what is going to be the best insurance coverage to protect their investments from risks. Angelica holds her Bachelor's degree in Business and a Property & Casualty License, and continuously expands her knowledge by reading the Insurance Journal Weekly and attends webinars and conferences.
We asked Angelica's supervisor to share some words, and the news spread from there. Multiple levels of leadership had wonderful things to say about her.
Richard Choe, Commercial Account Manager Team Lead and Angelica's direct supervisor said, "For Angelica, it all starts with her devotion to her clients.  Her rare mix of hard work, intelligence, and professionalism all stems from her commitment to doing what's best for her insureds.  She's a wealth of knowledge, a true professional, and is one of my role models in this business."
Mohsen Khan, VP of Southern California said, "Angelica is one of the most compassionate and resilient teammates I've had the pleasure to work with. She's always available to share her encyclopedic knowledge, help problem-solve, and elevate others around her. She cares deeply about her clients, genuinely treating their concerns as her own. Managing a complex middle market book presents a unique set of challenges, yet Angelica handles each with a level of precision and grace the finest Swiss horologists would envy. I have profound respect for her integrity, work ethic, and dedication. It's easy to run out of superlatives so I'll finish by saying we're equally proud and fortunate to have her representing Southern California!"
To get to know more about Angelica, we asked her a couple of questions about her and her time in the insurance world:
Q: Tell us about your start in the industry?
A: When I was still a student, I landed a part-time gig as a receptionist for Strachota Insurance Agency. Eventually, I ended up working there full-time, juggling school at night and a growing workload by day. My responsibilities expanded from just answering calls to personal lines and accounting tasks. The agency kept growing, and the Principle, Bob Hemme, needed a Commercial Lines Account Manager, which he offered to me. I was ecstatic about the promotion and learning from Bob became a defining experience in my career. Under his guidance, I learned the importance of going the extra mile for clients. We've been working as a team for almost four decades, and Bob has been there for me every step of the way, even now.
I must confess that when he offered me a share in the business, I was apprehensive about the level of responsibility it would entail. But, in the end, I accepted, and it turned out to be a life-changing decision that helped me grow personally and professionally. Although I've had some rough patches, I'm grateful for the positive experiences I've had working in the insurance industry. What I treasure the most are the incredible individuals I've met along the way, including my colleagues and clients, who have become lifelong friends. It's also been an honor to have my children work alongside me, and they've taught me so much.
Q: What qualities do you have that make you a great insurance professional?
A: I pride myself on my strong sense of compassion, unwavering integrity, and keen attention to detail. When it comes to my work, I'm fueled by a genuine concern for others. Giving up is simply not in my nature, and I always strive to go above and beyond for my clients. Drawing on my vast insurance and business experiences, I can offer them sound advice across a range of topics, not just insurance. At the heart of it all, it's the deep connections I've formed with my clients that make me a truly exceptional insurance professional.
Q: How did you come to the conclusion that the insurance industry is a good fit for you?
A: During my studies in Business, I discovered my true calling. The dynamic world of insurance drew me in with its constant challenges and absence of monotony. What I love most about this industry is the opportunity to learn something new every day, making it an endlessly rewarding experience.
Q: If you could sit down with your younger self, what is one piece of advice you would share?
A: Rather than dwelling on the past, focus on the present moment and make the most of it.
Q: What's something you do outside of work that would inspire your co-workers and clients?
A: I have a deep affinity for Soap Operas, with General Hospital being my all-time favorite since my childhood days of recording it on VHS tapes (I suppose that's quite a dated habit now!). In fact, it has become something of a therapeutic ritual for me to tune in every evening after a long day's work.
Recently, I was blessed with the arrival of my granddaughter, Charlotte, who is an absolute delight to spend time with. Her mere presence brings a renewed sense of joy and wonder into my life that I cannot put into words.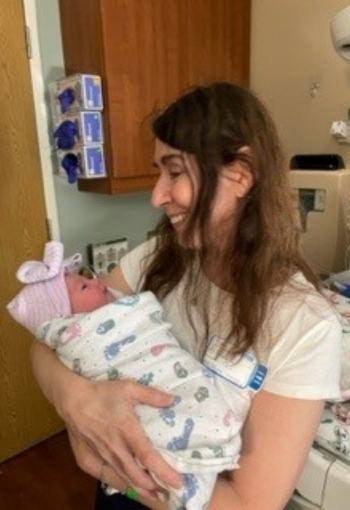 Q: What interests you in a career at Inszone? 
A: The prospect of continuing to work alongside the same colleagues and clients with whom I've shared many years of professional history fills me with immense gratitude. And while I cherish these enduring relationships, I am equally excited about the opportunity to collaborate with new members of the Inszone team.
Q: What quote keeps you inspired in your day-to-day life?
A: Whatever the work is, do it well-not for the boss but for yourself.
You make the job; it doesn't make you.
Your real life is with us, your family.
You are not the work you do; you are the person you are.
Heartfelt congratulations, Angelica! Your dedication and hard work have truly made a difference, and we couldn't be more thrilled to have you by our side as we venture ahead. Your unwavering commitment to excellence is truly appreciated, and we thank you for everything you bring to the table!