Here at Inszone, one of our missions is to make sure that every employee is appreciated, acknowledged, and recognized for their achievements. This Employee Spotlight series aims to celebrate success and highlight the talented individuals we have at Inszone. This month, please join us in congratulating Akilino Jacky, our Employee Spotlight for the month of January!
Akilino Jacky, is a Senior Commercial Insurance Specialist at Inszone Insurance Services. He joined Inszone Insurance in 2014 in the accounting department and has grown and developed with the company. In his current role he enjoys helping contractors, at various stages of their careers, to understand how to protect their business that they worked so hard to build.
When asked to share some words about Akilino, Chris Tracy, who is Inszone's Vice President of the Northern California region and Akilino's direct supervisor said, "I would like to start by saying that Akilino's favorite football team, the Denver Broncos, would have had a much better season if they had more teammates like Akilino. Most great teams appear to have a glue guy and a high performer. The glue guy ignites the team by bringing out the best in each teammate and ensuring they know they belong. The high performer does the job and does it exceptionally well. Akilino is all of these things and more. He is dedicated, motivated, and hardworking, and he contributes to the Sunday charity contest on a weekly basis. I am confident that the entire team up here would echo those sentiments. I would like to end by saying that Northern California is as proud of Akilino as they are lucky to have him on the team."
To get to know more about Akilino, we asked him a couple of question about him and his time in the insurance world:
Q: Tell us about your start in the insurance industry?
A: My insurance career began, strangely enough, in a garage in the mid-2000s, playing drums alongside bassist and future CIO Rich Lemon. After years of rocking out in Southern California, the decision was made to relocate closer to home. I arrived in Sacramento in 2014, jobless but eager to work. I tracked down an old bandmate/buddy, Rich, and he got me an interview…and I got the job! Although I thought I was doing a fantastic job in accounting, I was determined that sales would be a better fit for me in the long run, so I switched to sales in 2015 and haven't looked back! 
Q: What has been one of your proudest moments in the insurance world?
A: I'm proud to be a part of an organization that is dedicated to helping others. I'm proud of the people I work with, especially seeing the new leaders succeed in their roles. I'm proud of what Norm, Chris, Rich, and Pat have accomplished with our small, originally 20-person team agency.
I'm most proud of my clients; I've helped newly appointed contractors who needed General Liability to do a one-man job, and before long they have turned that one-man job into a multi-million-dollar business with more than 20 employees! Very cool!
Q: If you were not in insurance, what would you like to be doing?
A: I would love to be able to play music professionally; that would be awesome!
Q: What is your career goal?
A: To constantly improve and broaden my skill set so that I can insure a wider array of risks. To look back on my career and feel good about the impact I had on the businesses I worked for, that they saw me as a valuable member of their team while they pursued their dreams, and to eventually save enough money so that my wife and I can travel the world in our golden years!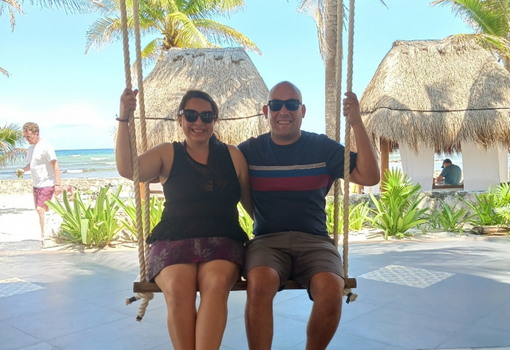 Q: If you could sit down with your younger self, what is one piece of advice you would share?
A: I would tell my younger self to enjoy the ride; most moments in life are enjoyable; it all depends on how you look at it. Also, younger self, shave your head sooner and invest in bitcoin!
Q: What's something you do outside of work that would surprise your co-workers and clients?
A: I love music, both playing and listening to it. My wonderful wife and I have an extensive vinyl collection. I enjoy the outdoors, the ocean, camping, canoeing, nature hikes, and walks along the river. I enjoy games, darts, Yahtzee, cornhole (unless I'm playing doubles against Chris Tracy and his wife, but that will change soon), and especially brewery trivia night with my teammates.
Q: What quote keeps you inspired in your day-to-day life?
A: "Be who you are and say what you feel, because those who mind don't matter and those who matter don't mind." Dr. Seuss. I love that quote. I think being true to yourself, always, will lead you to happiness. I think happiness in life is the key component to success.
Thank you for your dedication and hard work, Akilino. We are grateful to have you. Again, congratulations, Akilino!