Our company is full of incredible people, who are out making a difference for others in their communities. Our very own Patty Cicogni, a Senior Commercial Lines Account Manager in our Rancho Cordova office, spent some of her time volunteering with the American Red Cross for their Sound the Alarm campaign.
Our local and regional communities are important to our organization. With Inszone's new Charitable Time Off (CTO) initiative, employees are able to volunteer for charities that are important to them, all while getting paid. We are pleased to see the change that Patty was able to make under this company wide program and we look forward to seeing all of the amazing community efforts from more Inszone team members.
Rob and Tricia's Volunteer Story: 'If We All Come Together, We Can All Help' from American Red Cross on Vimeo.
Home fires are this nation's most frequent disaster and many of these occur in homes that do not have proper safety measures in place, like smoke alarms. The American Red Cross launched their Home Fire Campaign back in 2014, and part of that campaign was Sound the Alarm. Through the Home Fire Campaign and Sound the Alarm, The Red Cross has installed over 2 million smoke alarms in nearly a million households. They have been able to reach 1.8 million through this campaign.
Chloe Melas's Home Fire Story: 'You Can Replace Things, You Cannot Replace People' from American Red Cross on Vimeo.
We took some time to chat with Patty about her involvement with this program and why it's important to her, and here is what we learned!
"I am part of one of the two local DAT (Disaster Action Team) teams that cover the counties of Sacramento and Yolo. We are on call every other week and respond to local disasters, mostly home fires, once in a while there is a wind event that causes a tree to fall into a house, in the winter months we respond to flooding events, and sometimes there are events where cars crash into houses, although those are probably less than 1% of the responses.

I am part of the Sheltering team, and since I am not able to deploy nationwide due to my work schedule, I am happy to help locally whenever possible, and last year during the Caldor Fire, I volunteered at the Cameron Park Red Cross Shelter for 28 days. I drove there immediately after work, and was there until midnight every weekday, and twelve hour shifts on weekends, helping clients with meals and other basic needs.

Being a frontline responder for DAT and having witnessed firsthand the loss of material possessions and even the loss of life, I feel strongly that if a person has a working smoke alarm, they are more likely to escape the situation and survive. During events like this one, besides installing free smoke detectors, we teach every home how to do a 2-minute drill. In the event of a fire does your family have a plan? Do you have 2 ways to exit out of each room? Do you have a meeting place?"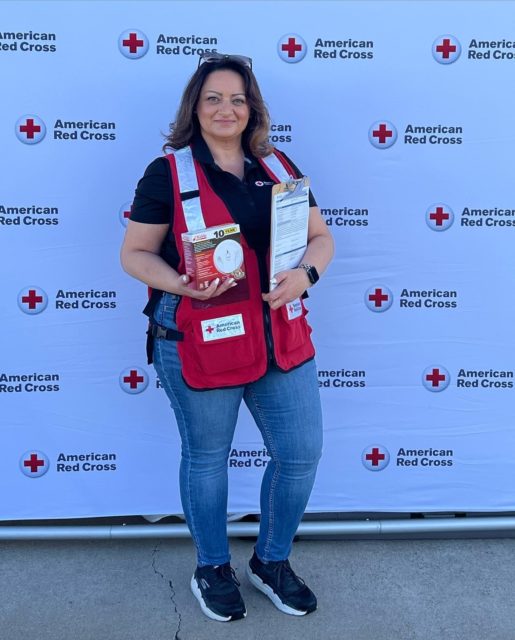 To learn more about Sound the Alarm or to find out how you can participate in this mission next year, visit their website.
Para obtener más información sobre Activa tu Alarma o para saber cómo puede participar en esta misión el próximo año, visite su sitio web.