In this month's edition of Inszone Employee Spotlight, we would like to acknowledge and honor Janet Teague's many years of dedicated service in the insurance industry.
After more than four decades of working hard to protect our clients, Janet is saying farewell to her role and big hello to life as a retiree! Janet Teague is a Senior Personal Insurance Specialist at Inszone Insurance Services and the Branch Manager of our Inszone satellite office in Benson, Arizona. Janet joined the team in November 2019 after Inszone's merger with her previous company, Jones Wilson Insurance. Janet has provided insurance services to residents of Benson, AZ for more than four decades. Her strong relationships with her clients within the local community has made her one of the most admired and favorited insurance agents in the Benson area. Janet has a strong service mentality and always makes her customers feel at home whether they visit our Inszone Benson office or through the phone.
Janet is a seasoned insurance veteran who loves solving the problems of her customers and turning them into opportunities for strong relationships. Although insurance is a must-have for all individuals, Janet strategizes with her clients to make sure they have the coverage they need while at the same time helping them save money from high insurance rates and minimize their risks from unexpected emergencies. Janet is happy with all the individuals she met along the way and the impact those relationships had on her experience and tenure.
Janet joined Inszone with a wealth of knowledge and a large network of connections within the Benson community. Aside from all the work that she does as an insurance agent, Janet is also committed to being active in her community. In fact, she was once a co-chairman of Benson MDA telethon, an annual event hosted by the Muscular Dystrophy Association (MDA), an association that has been committed to transforming the lives of people living with muscular dystrophy, ALS, and related neuromuscular diseases.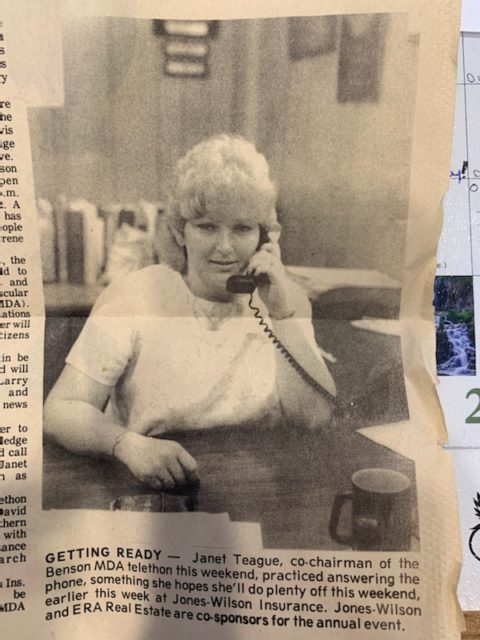 Prior to joining Inszone, Janet served as an insurance agent and one of the pioneers at Jones Wilson Insurance. The longevity of her service with Jones Wilson Insurance has also helped build trust between the company and its customers, which is why many of her customers have remained loyal to them for many years.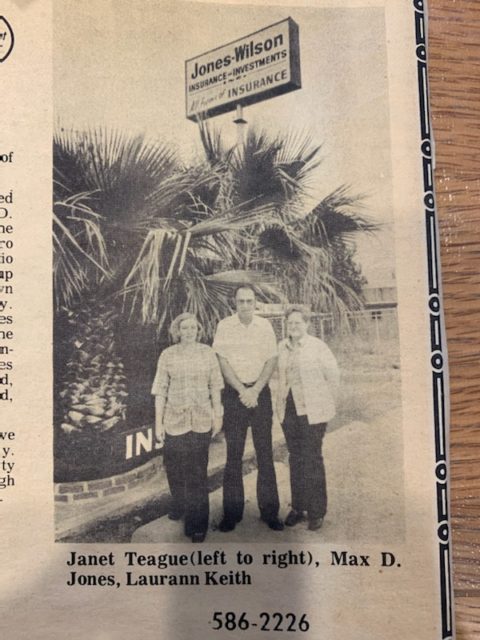 Not only are her customers important to her, but she also enjoys her bond with her co-workers in the office. She finds joy in sharing her knowledge and experience with them to help them succeed in their careers. Her caring nature and personality make her a pleasure to work with.
We wanted to reflect on Janet's career and her legacy in the insurance industry so we asked her teammates and managers to share some words about Janet. Here's what they had to say:
"Janet was my part of my first acquisition. Meeting someone with so much experience was nerve racking, she pinpointed me with great questions and immediately challenged me to become a better leader. Everything Janet does is with her team and clients in mind.  I am grateful to have had the chance to learn and grow from someone of such exceptional talent.  Janet is our Arizona Mom, team cheerleader and our heart!  Janet thank you for the privilege of working with you these last few years, to say you will be missed is an understatement!" – Sara Evans, Inszone AZ State Manger
"To provide a quote or story about Janet that that would do her service justice is quite simply impossible! For 45 years she was the face of the Agency and her dedication as well as insurance knowledge goes unrivaled. It's possible that Janet had more years of service than sick days used. Always early and committed, I would have been lost without her and I know my Parents felt the same way. Janet was Jones-Wilson and the face of Inszone in Benson." – Troy Jones – Former Owner Jones Wilson Insurance
"What I want to say won't fit in just a few sentences. I would not be in the position I am in if it were not for Janet. She is a great mentor, friend, and a wonderful Great Aunt." – Amber Thompson, Inszone Personal Insurance Specialist
"I've been fortunate to have had strong mentors in my insurance carrier. One of those is Janet, her knowledge, work ethic, and encouragement are constant examples of her professionalism. Even more than that, she is kind, caring and loving. She will be missed by all of us but especially Jon and I, all the food, all the desserts, all the laughs. Thank you for all you have done for me and my family Janet, for looking out for us, for loving on my kids. All the best in retirement, have fun, read a lot of books, and invite me to a get together every now and then." – Carlos Campos, Inszone Senior Commercial Producer
"Janet is one of the most caring and sweetest people you will ever meet. She's always there to help wherever she can and cheer you on every step of the way! She is truly an amazing person and fantastic cook! We are all going to miss you Janet, Thank you for everything!" – Jonathan Campos, Inszone Commercial Lines Account Manager
"Janet is the umbrella to my policy, she is always willing to help others and has been a great mentor and friend. She will be missed." – Dawn Marsh, Inszone Commercial Lines Account Manager
To get to know Janet a little better, we asked her a couple of question about her and her time in the insurance world. She was excited to join us for an interview to reflect on her legacy in the insurance industry.
Q: How did you get into the insurance industry?
A: I joined the insurance industry on June 17, 1977. My mother once served as one of the employees of my previous company, they had an opening, so I grabbed the opportunity. I knew a little bit about insurance, so I never really had a hard time when I started working in the insurance field. I started as a type of back office for about a year. I then went into insurance quoting and got my professional insurance license in 1985.
Q: What qualities do you have that make you a "great" insurance agent?
A: I would say my abilities to relate, listen and understand my customers, along with my easy-going temperament. Being in the insurance industry for more than four decades has taught me the importance of putting my clients' interests above anything else. I help my clients have a better future and more secure financial options. I am genuinely interested to every individual I meet and treat my clients as if they were my own.
Q: How would you define success?
A: To me, success is knowing exactly the needs of my customers and the products available to them. A sense of satisfaction at the end of each day knowing that my clients are protected from risks is success too!
Q: What makes you proud to work in the insurance industry?
A: The thing that makes me proud to work in the insurance industry is to be able to help my customers navigate the insurance industry that most do not understand and do not want to deal with. It is always satisfying to help them get the best price possible for their personal insurance policies, as well as being able to interact with all types of individuals along the way.
Q: How do you balance your career and family?
A: I try not to take any of my work issues home. We raised two wonderful, successful men who also have the easy-going attitude which helped. Also, family time is very important to me, so we try to have dinner together at least every two weeks!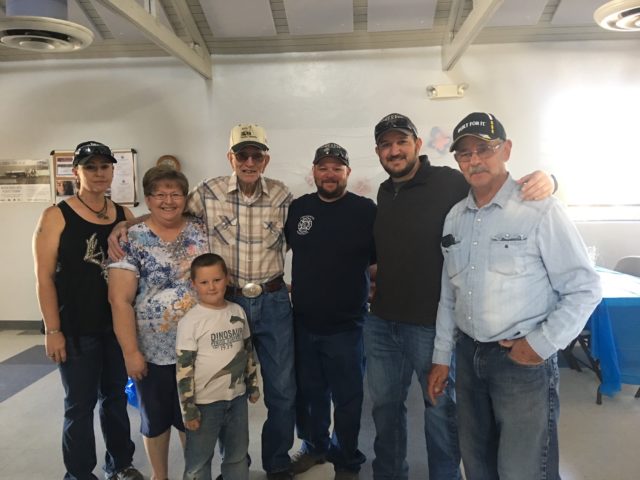 Q: What do you do in your personal time?
A: I love to read, cook, and spend time with my 9-year grandson. I also enjoy baking, watching Hallmark movies, and catching up with my friends during my personal time!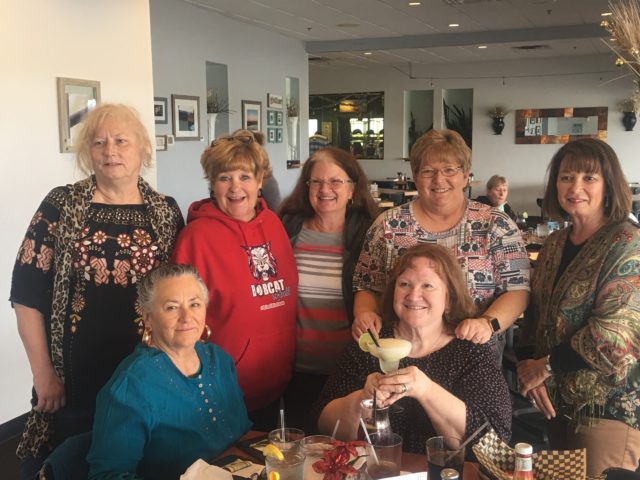 Can you share with us a personal quote that you live by?
A: "Treat others as you wish to be treated. Put family first, career second."
We are very pleased to recognize Janet Teague as the next recipient of our Employee Spotlight. Your efforts are greatly appreciated, and we wish nothing but the best for you, your family, and your future endeavors. As you make your last bow at Inszone, we hope you enjoy life with your friends and family. We will miss you, Janet! Happy Retirement!